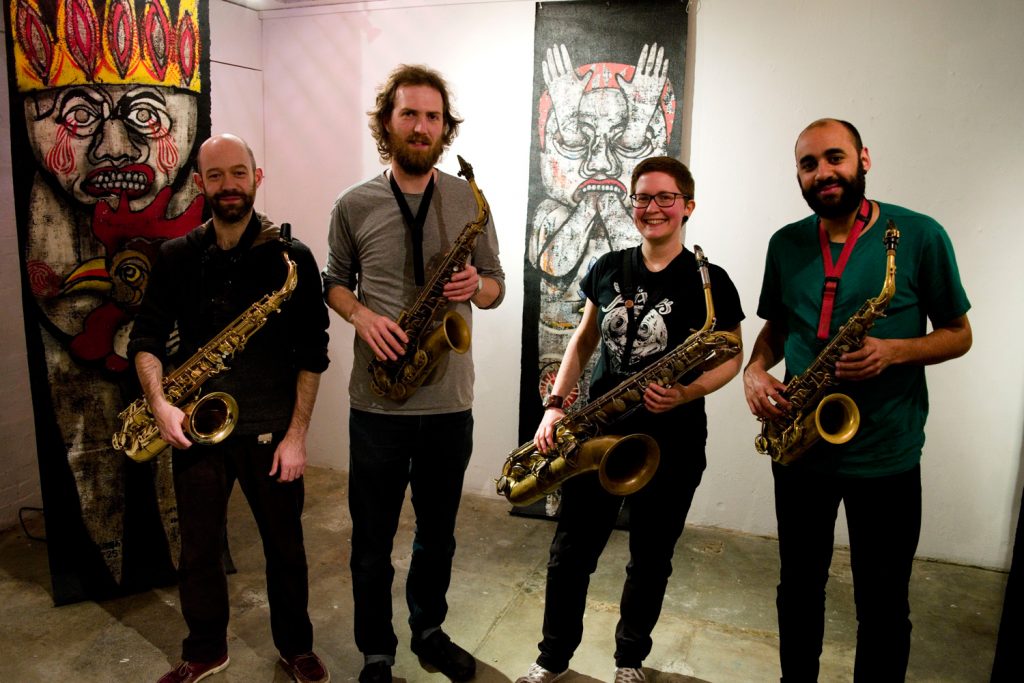 Left-to-right: Andrew Woolf (tenor sax); Tom Ward (alto sax); Cath Roberts (bari sax); and Chris Williams (sop & alto sax).
Madwort Sax Quartet brings together four diverse improvising saxophonists from across the UK scene. Led by Tom Ward and playing his original compositions, the project's influences include numerology and the movement of the planet earth through space, Steve Coleman, pioneering saxophone quartet ROVA, Tim Berne, and transcriptions of bird song. Their 2017 debut album "Live at Hundred Years Gallery" (efpi records) was well received by critics. "Cutting-edge contemporary music, but it's unexpectedly engaging emotionally, and deeply rooted in imaginative composition" wrote John Fordham in The Guardian. Stewart Smith in the WIRE magazine described it as "a distinctive response to the knotty compositional language of Coleman and Berne."
The quartet played to a sold-out Portico Library at Manchester Jazz Festival 2015, and recorded their debut album live in Spring 2016 at a packed Hundred Years Gallery in London, documenting Tom's music and capturing the infectious energy of a live gig. To accompany the album release they toured the UK, with gigs including Jazz North East in Newcastle, Out Front in Derby, Plink Plonk in Norwich and more.
The four players regularly appear in other musical contexts. Alto player and leader Tom Ward's 'bubbling licks and dabs of bass clarinet' (The Wire) featured on the Raw Tonk Records 2016 release 'Ashes' by Ma/ti/om (with bassist Tim Fairhall and percussionist Matilda Rolfsson). He leads Madwort's Menagerie, an improvising chamber group which performed on the Barbican Freestage at the 2015 EFG London Jazz Festival, and co-leads a quartet with 'Imaginary Delta' pianist Adam Fairhall. Along with his own projects, Tom plays with a variety of other groups including Overground Collective and Quadraceratops ("garrulous, belligerent tenor blowing" – The Jazz Mann). He was also a member of Dave O'Brien's Peter Whittingham Award winning sextet Porpoise Corpus.
Alto player Chris Williams is perhaps best known as a member of Mercury-nominated powerhouse Led Bib: 'Rarely have two saxes, keyboards, bass and drums sounded so dangerous yet so compelling.' (the Guardian). He plays in many other groups including Metamorphic, Stolen Project and Let Spin, the formidable 'prog-jazz supergroup' (Jazzwise) with Ruth Goller, Moss Freed and Finlay Panter.
Andrew Woolf was praised for his "… warm-toned mellifluous tenor saxophone" (London Jazz News) and "effortless fluency" (The Jazz Mann) on the debut release by Andrew Button's quartet The Button Band. An accomplished clarinettist, he has a strong interest in Brazillian choro music, which he explores with a range of ensembles including his duo project Choro Matiz.
Baritone player Cath Roberts' quintet Sloth Racket released its debut album 'Triptych' in Spring 2016 ('an agreeably spicy goulash of free improvisation, grumpy riffs and bluesy themes' – The Quietus), and in Autumn 2016 she was commissioned to write a new suite for large ensemble as headline artist at Lancaster Jazz. She is half of Ripsaw Catfish, a long-running duo with guitarist Anton Hunter, and her contemporary jazz septet Quadraceratops released an album on Efpi Records in 2014 ('one to watch' – The Guardian). When not performing Cath is active as co-founder of LUME, the platform for original/improvised music that she runs with Dee Byrne.
Since its formation in 2011, Madwort Sax Quartet has performed regularly around the UK, to enthusiastic audiences ("a significantly distinctive musical proposition" – London Jazz News). In 2017 they will embark upon their first UK tour to support the album release on Efpi Records.
For the latest news & recordings of this group, go to the Sax Quartet News Category.